Since my previous guide on Antigua, Guatemala, I haven't changed my approach to picking new places to eat when traveling abroad—I still believe that a shop without any tourist is most likely to be a much tastier and authentic experience while also being way cheaper. Eating at a street shop is as safe as eating in those pseudo-restaurants for tourists, so stop worrying about getting sick and just do it.
If you are a foodie, I recommend you to take your time in Đà Nẵng as it has the reputation of hosting a great cuisine. I myself tend to agree with this statement to the point of always having missed the food from Đà Nẵng whenever I went to visit other Vietnamese cities. On top of that, it's probably one of the cheapest place to live and eat in Vietnam—the price for a meal goes in average between 10,000 and 25,000 VND, which is within the $0.5-$1 USD range.
But the truth is that it took me some time to really appreciate the subtleties in the Vietnamese cuisine. At first, I did love each bit of the food that I tried, maybe at the exception of the duck blood jelly, but it was impossible for me to taste the difference between a same meal served in different places. My palate took a bit of time to develop and, after 6 months spent over there, I now have my favourite shops, which is what this little guide is all about.
The precise location for each shop listed in bold in this article is available in the Google Map linked below, as well as the kind of food that you should try there, and the approximate opening hours. Approximate because this kind of thing can get highly unpredictable in Vietnam, so don't hold a grudge against me if a shop is closed when I mentioned the opposite.
Mì Quảng
Let's get started with something typical from the central area of Vietnam. Mì Quảng is one of the most popular noodle dish around here and it is so tasty that it's a real shame to not be available everywhere.
Its base is made of flat and thick rice noodles (mì) that are placed in a bowl filled with a bed of sauce. The whole is then topped with pork, shrimps, boiled eggs, peanuts, and fresh herbs. The bowls served this way look a bit empty but a plate of salad and bean sprouts is always served on the side for you to add some more consistency.
I unfortunately do not know of any good address for mì quảng in the city centre as I have exclusively been heading to either one of the two excellent places located nearby where I've been staying. Out of those two, I tend to have a small preference for the
shop Bà Vị
, which serves a complimentary rice paper galette (bánh tráng), but the
Khong Gian Xua Place (402-404 Dien Bien Phu Str.)
is as good and is a slightly cleaner and more comfortable place to eat. Note that the hygiene of the food itself is equally good in both shops.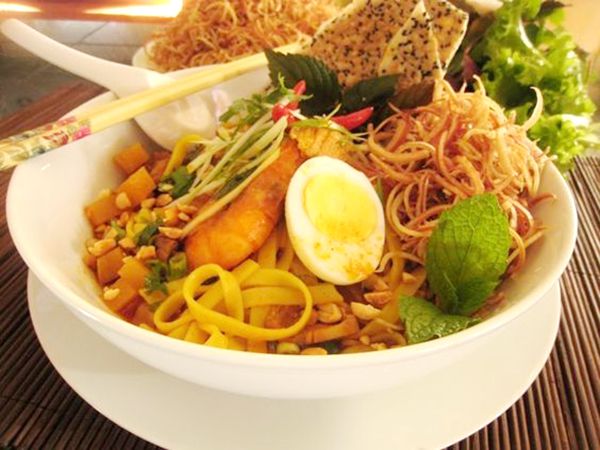 Bún Thịt Nướng
The bún thịt nướng dish is one of my very favourites and consists mainly of vermicelli noodles (bún), grilled meat (thịt nướng) and some greens. It is usually poured with fish sauce (nước mắm), but Đà Nẵng has its own distinctive variation of it where the fish sauce is replaced with a brown sauce called nước tương (which usually means "soy sauce" in other contexts, but not here), and that is made of ground meat and fermented soy beans.
Both variations are delicious, making the choice between the two difficult. By default you will be served with the brown sauce but you can get the fish sauce variation if you manage to ask "với nước mắm", meaning "with fish sauce". As for the pronunciation, you can try something like "voey nook mam".
The shop Bà Trai (194 Dong Da Str.), shop Xuân (491 Hai Phong Str.), shop Tâm (511 Ngo Quyen Str.) have been my go-to place for lunchs as their bún thịt nướng is tasty, well garnished and cheap (15,000 VND).
By night, when the market is closed, another place takes the shift, that is the shop Xuân (491 Hai Phong Str.). The portions tend to be smaller but their fish sauce variation is so perfect that it quickly becomes addictive.
As with every noodles based dishes, mix well the content of the bowl before eating—a small amount of sauce lays at the bottom and needs to be used to cover each single bit of your meal or else it won't be nearly as flavoury. If you believe that you haven't been served with enough sauce, then ask for some more—if your bowl is entirely dry after eating, then it's definitely a sign that you didn't have enough.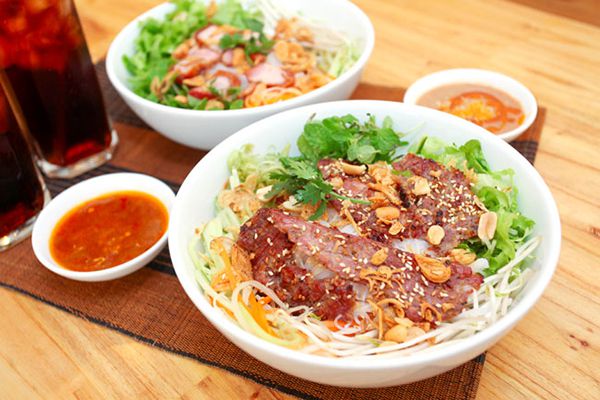 Cơm Tấm
Now, this really is something that you shouldn't miss while in Đà Nẵng! The cơm tấm dish, sometimes also called cơm sườn, is based on broken rice (cơm tấm) and assorted with a piece of grilled meat (thịt nướng). You'll find plenty of them in some other areas of Vietnam but while you are in Đà Nẵng, you must head to the Shop Cơm Tấm Trâm (175 Dong Da Str.) , Shop Cơm Tấm Bà Lang (120 Yen Bai Str.), Shop Cơm Tấm Vân Hương (30 Nguyen Thi Minh Khai Str.)
What's so special about this place? Their broken rice is of good quality, the meat is nicely prepared, but most importantly, it comes with a great fish sauce (nước mắm). As unimportant as it might seem at first glance, the fish sauce is what can transform an OKish meal into an awesome one. This is the recipe that each restaurant keeps secret, and the one served in this shop is simply amazeballs if poured in the right quantity—not enough won't be good enough, and too much will make the whole thing so salty that you won't be able to eat any more. Pour progressively!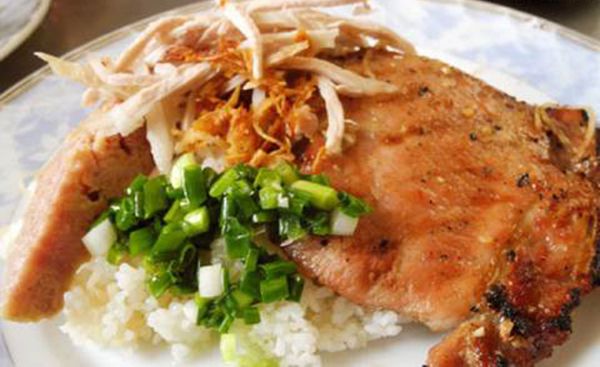 Bánh Mì
Instead of hanging around in the cheap food paradise that is Đà Nẵng, most travelers will choose to hastily head towards the overly touristic shopping mall that is Hội An. And that's ok because you wouldn't be able to call your Vietnamese experience complete without trying out the sandwich from Bánh Mỳ Phượng.
A good hint to figure out if a sandwich (bánh mì) shop is going to be good, is to check how packed the food stand is. The more pots, sauces, pâté, and other condiments, the better. On this aspect, Bánh Mỳ Phượng is on top of the list.
I'll turn it quiet on my anti-touristic thingy here because her popularity climbed to the real top after that Anthony Bourdain paid her a visit but she freakkin' deserves it—her sandwiches are the best that I've had the chance to try in Vietnam, and possibly around the world. Her mixed sandwich (bánh mì thập cẩm, number 3 from the menu) is a great combination of flavours with some beautiful pâté, a slightly spicy sauce, and some fresh herbs and cucumbers alongside the grilled meat. As for the crispy bread, and I won't say that often, it has nothing to envy to French's baguettes.
Take a seat in the naturally lit room upstairs and enjoy while you can—this might become the one thing that you will miss the most from your travels in Vietnam.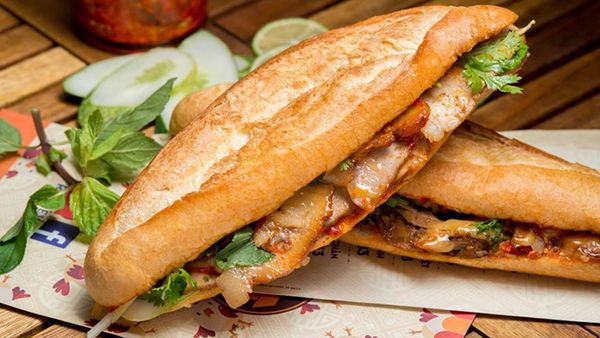 If you are still in Đà Nẵng and are craving for a good sandwich, you might want to give a try to the Memory Cafe. Thúy, the young woman running the shop, always shows up with a smile, ready to do her best to please you. It's not hard to see that she is genuinely passionate about her job, that she loves interacting with her customers, and that she tries her best to prepare cheap but decent meals for the students around who can only afford the bare minimum. She is so lovely that I sometimes saw her giving away free breads to students in difficulty.
After taking her to Bánh Mỳ Phượng once, she got inspired to improve her own sandwiches and ended up with a XL version called "Bánh Mì Memory". It's packed with everything, her homemade pâté is pretty good, and the whole works very well. As for the crispiness of the bread, she never had anything to envy to Bánh Mỳ Phượng with her small oven, ready to heat up your sandwich just before serving.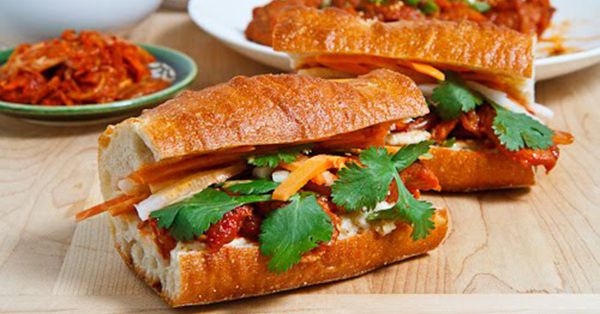 If you're still hungry afterwards, give a go at her "xôi với chà bông", that is a sticky rice (xôi) topped with (với) rousong (chà bông). A simple but surprisingly addictive dish.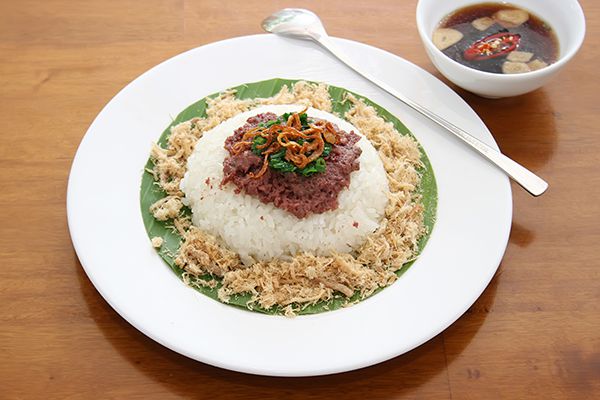 I believe that she deserves all our support so make sure to pay her a visit if you pass nearby!
Bún Chả
When bicycling in the city centre and noticing a restaurant packed with locals, I knew that I had to try it out. The restaurant Hà Nội Xưa is specialized in bún chả, itself a specialty from Hà Nội as the name says.
It might not look like it but it's essentially a variation of a bún thịt nướng—it is made of grilled meat (thịt nướng) served with vermicelli noodles (bún) and a whole lot of not so salty fish sauce. The fish sauce actually reminds me a bit of apple ciders.
Note that the photo below doesn't give any credit to the dish so you'll have to trust me on this one—it's some good shit!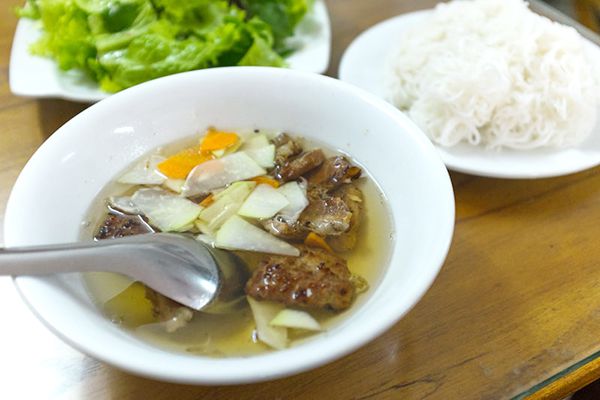 Cơm Chiên
When I lived in Wellington, New Zealand, I used to often go to the Vietnamese restaurant next to my place with their fried rice (Cơm chiên) dish in mind. When I say often, I mean that I probably was their best client, ever. The same story got repeated when I made it to Vietnam and it still proved difficult to get bored with it. It always is a great go-to dish and is usually served in a large enough portion to stop any starving.
Smaller Dishes
Flat steamed rice dumplings (bánh nậm [vn]), steamed savoury rice cakes (bánh bèo), thin rice noodle sheets (bánh ướt), savoury rice pancakes (bánh xèo), filled sticky rice cake (bánh chưng), black sticky rice cake (bánh gai [vn]), orange-colored viscous soup with rice noodles (bánh canh nam phổ), and more, are what you'll be able to find at any food market. But beware that some dishes are harder to get depending on the time. The bánh chưng for example are usually easier to find in the morning, while you'll have more chances to get your hands on some bánh nậm early in the afternoon.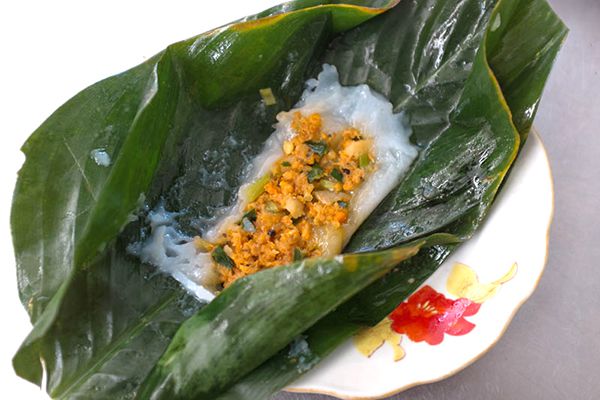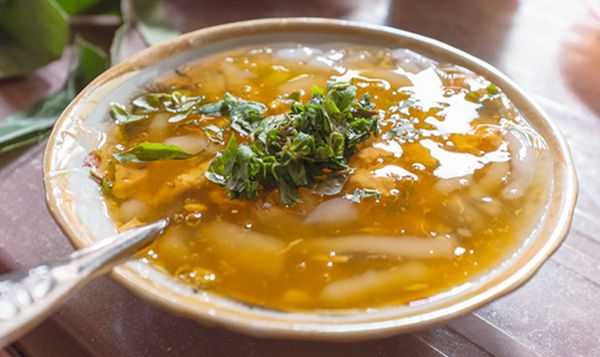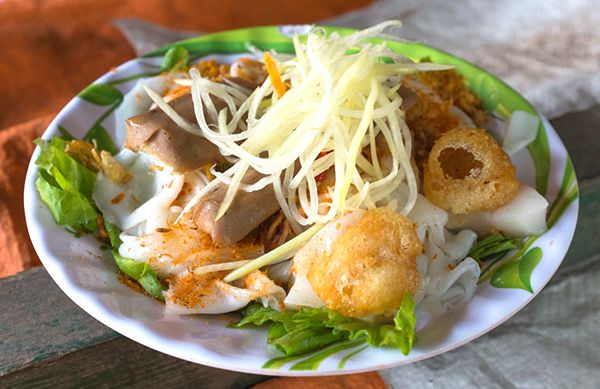 Also note that there are two variations of bánh bèo—the first one being a thin rice noodle with a circle shape, as seen above, and the second one being also a rice noodle but this time served in a small cup with a sauce topping, as per the photo below.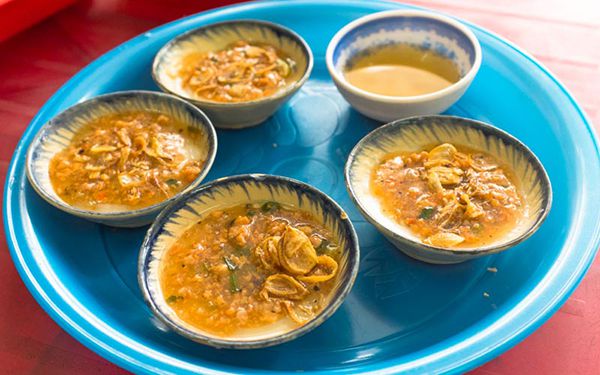 Desserts
Vietnameses are also fond of sweets, but not in the sense that we're used to. You won't find much croissants, chocolate, cakes, and other Snickers. No, Vietnam is more about desserts based on the likes of beans, bean sprouts, corn, coconut, rice, and others, and is no less delicious.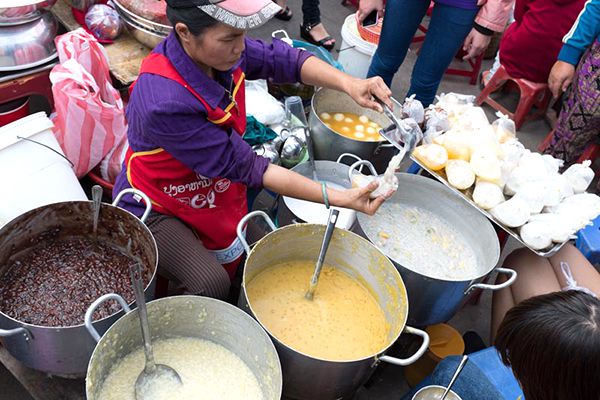 lady serving a pudding at the Chợ Cồn market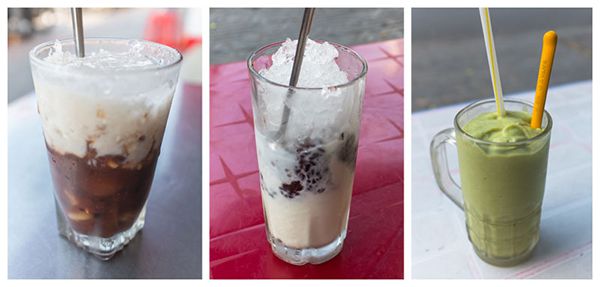 pudding, yoghurt, avocado smoothie
Let yourself be tempted by either one of the desserts from the photo above. You'll find the mixed pudding (chè thập cẩm) at Chè Hương (288 Phan Chau Trinh Str.) - Chè Xuân Trang (31 Le Duan Str.), the yoghurt with black rice (yaourt nê'p câm) at Cô Phúc (65 Ly Thuong Kiet Str.), and the avocado smoothie (sinh tố bơ) in many places such as Hồng Quyên (02 Le Dinh Tham Str.) . Enjoy!
International Cuisine
I tend to focus solely on the local cuisine while traveling, and these go against my usual habit of running away from touristic places, but on the long term I eventually end up bending the rules on some rare occasions when I need a freakkin' good pizza or something.
On this point, I didn't expect much from Vietnam but I've been pleasingly surprised with Luna Pub, an Italian where you can find a large choice of greats pizzas for around $7 USD, as well as the Japanese restaurant Banjiro serving the biggest, cheapest, tastiest, and possibly most authentic Japanese dishes that I've had the chance to try so far. A single main dish will be more than enough, so brace yourself if you fall in the trap of ordering extra sushis and others sticks of grilled meat.